Wee Rock Art loves doing custom orders. To date, I have not had to decline a custom order due to its complexity, and I hope to keep that record going. It may be a different "Theme" that you want a picture to convey, or it may be that you'd like the "Message or Quote" to be more personalized. For "Wedding Pictures", people often like the names of the couple and/or the date of the wedding to be on the picture. I am open to hearing your ideas and will do my best to fulfil your vision.
Wee Rock Art has done and will be doing several large orders for Company Clientele as Christmas or Anniversary gifts. Last Christmas I created and personalized approximately 40 different Rock Art pictures for a fabulous Dog Walker for all of the families whose dogs she walks and cares for. Her clients loved how the pictures were personalized to their particular family, with the correct number of dogs, adults and/or children. In 2019 I created a personalized piece for 23 staff members of a Dental office in BC - from the Dentists. The staff members thought it was the BEST gift their Employers had ever gotten them!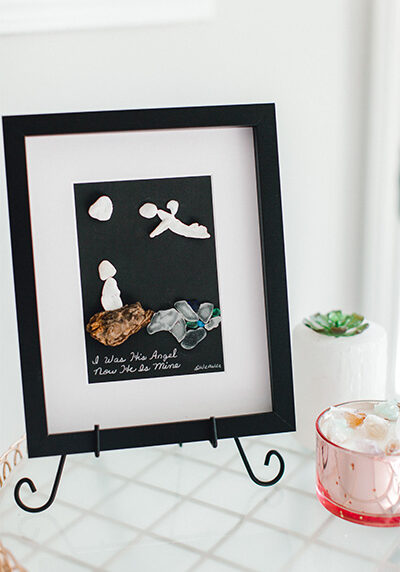 Whether it is a custom order of "1" or "50", I am happy to communicate with you and create your picture in a reasonable timeframe. Nearer to Christmas that timeframe may be a bit longer than the rest of the year, of course. A deposit of 50% is needed - a rough mock-up will be submitted to you and once you have approved, the balance will be due, so that I can begin the project.
If you would like to inquire about a custom order, please complete the information below and we can start communicating.
KIND WORDS FROM MY LOVELY CUSTOMERS
"Donna did a Custom Order of 35 Rock art pictures for the clients I Dog Walk for and each one of them turned out beautiful and was customized to each particular family. They all loved their pictures ! Donna has an awesome talent to put your ideas and visions together in an absolute beautiful work of art. Love your passion Donna, keep up the great work. ."